Large-capacity crude oil tanker to cross Northern Sea Route on LNG fuel for first time

27 August 2019

On 26 August 2019 Korolev Prospect, Sovcomflot's LNG-fuelled Aframax crude oil tanker, began a transit of the Northern Sea Route (NSR). She will become the first such large-capacity crude oil tanker to travel the entire length of the Northern Sea Route using only cleaner-burning LNG fuel.

The tanker is delivering a cargo of crude oil from the port of Murmansk to China. The journey along the NSR, from Cape Zhelaniya to Cape Dezhnev, will take about eight days, with vessel moving at the expected average speed of 12 knots.

While transiting from the Laptev Sea to the East Siberian Sea, the vessel will follow the 'Tikhonov' deep-water route that lies north of the New Siberian Islands, which was first opened for commercial shipping in 2011 by SCF's tanker Vladimir Tikhonov.

The crew of Korolev Prospect includes Vasily Yermakov, one of the most experienced ice captains in SCF's fleet, who acts as an ice adviser for this voyage.

Compared with standard marine fuels, vessels using LNG fuel achieve a significant reduction in vessel emissions whilst also improving the ship's energy efficiency.

Today, Sovcomflot has six LNG-fuelled crude oil tankers in operation, including Korolev Prospect, and five more under construction. Korolev Prospect, delivered in February 2019, has a deadweight of 113,232 tonnes, a length of 250 metres, breadth of 44 metres, and an ice class of 1A hull.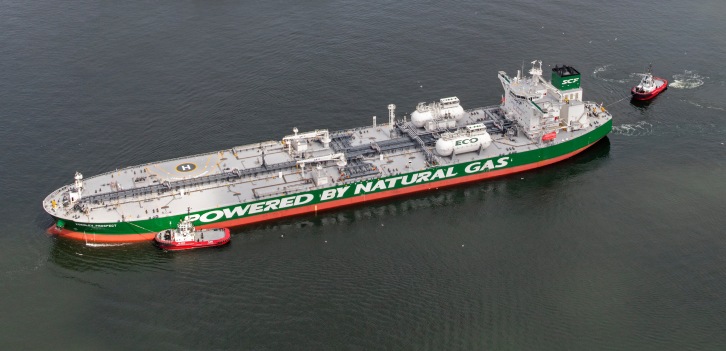 Korolev Prospect is being berthed for bunkering with LNG at the Port of Rotterdam. Image by SCF Group.

Sovcomflot (SCF Group) is one of the world's leading energy shipping companies, specialising in the transportation of crude oil, petroleum products, and liquefied gas, as well as the servicing of offshore oil and gas exploration and production. The company's fleet includes 146 vessels with a total deadweight of over 12.8 million tonnes. More than 80 vessels have an ice class.

Sovcomflot is involved in servicing large oil and gas projects in Russia and around the world: Sakhalin-1; Sakhalin-2; Varandey; Prirazlomnoye; Novy Port; Yamal LNG, and Tangguh (Indonesia). The company is headquartered in Saint Petersburg, with offices in Moscow, Novorossiysk, Murmansk, Vladivostok, Yuzhno-Sakhalinsk, London, Limassol, and Dubai.

SCF vessels have been successfully operating in the Arctic seas for over a decade. During this period, the company has accumulated unique experience operating advanced marine equipment in harsh environment of high latitudes, as well as developing and introducing logistics support solutions for large-scale energy projects in the Russian Arctic.

In 2010-2011, Sovcomflot completed several experimental transit voyages along the NSR, proving that using this route as a transport corridor for large-scale cargo ships is both technically feasible and economically viable. These high-latitude voyages involving SCF's vessels have laid the foundation for implementation of such projects as Yamal LNG and Novy Port. In 2017, Sovcomflot introduced Christophe de Margerie, the world's first icebreaking LNG carrier. She is capable of sailing independently through ice up to 2.1 metres thick. The carrier can travel along the NSR westward from Yamal all year-round, and eastward for six months of the year (from July to December).

Sovcomflot is a world leader in developing and introducing innovations for maritime transportation. In 2018, Sovcomflot pioneered the adoption of LNG as a primary fuel for large-capacity oil tankers, a move that has been commended by industry experts. In 2018, SCF Group won an Environmental Award – Individual Company category at the Lloyd's List Global Awards. In 2019, Gagarin Prospect, the lead ship in the 'Green Funnel' vessel series, won the international Marine Propulsion Award for Ship of the Year 2018 and the Nor-Shipping Next Generation Ship Award.

The data accumulated from operating the first LNG-fuelled tankers of the Gagarin Prospect series shows that using LNG as a primary fuel achieves a 30 per cent reduction in CO2 emissions compared with similar vessels powered by traditional heavy fuel.

SCF Group press release.