Pier 4 Reconfiguration

March 1, 2018

Project overview
The Northwest Seaport Alliance is reconfiguring Pier 4 on the General Central Peninsula to align with an adjacent pier to create one contiguous berth capable of serving two 18,000-TEU container ships. The improvements will support larger container cranes and vessels.

The introduction of ever-larger container vessels has triggered dramatic changes in the container shipping. Vessels with capacity for more than 10,000 TEUs are currently calling at West Coast ports, and even larger vessels are expected in the future.

To remain competitive and meet industry needs, NWSA terminals must be ready to handle the larger ships entering the trans-Pacific trades.

New cranes
The NWSA ordered eight new super-post-Panamax cranes from Shanghai Zhenhua Heavy Industries Co. Ltd (ZPMC) in China through a competitive bid. No container cranes currently are manufactured in the U.S.

ZPMC is the largest heavy-duty equipment manufacturer in the world and delivers more than 200 cranes every year around the world, including many seaports in the U.S.

The first four cranes arrived Feb. 23. The other four cranes will arrive in early 2019.

While the crane structures were produced in China, the components of the cranes – including the spreaders, operator cabs, electronics and brakes – were made in Europe.

The project is managed by both NWSA and Port of Tacoma employees. Throughout the year, staff traveled to China to inspect and learn about the construction of these cranes.

Pier 4 and jobs
Once they arrive, the cranes will be installed at Pier 4 in our South Harbor that's currently under construction. This $141 million project will allow us to expand our cargo-handling capabilities to remain competitive in the shipping industry. See how the berth is built in this short video.

The scale of the project generated important business and job opportunities in our region. NWSA hired Manson Construction of Seattle to build the wharf, employing 50 to 60 people on any given day. Concrete Technology in Tacoma hired 30 to 40 people to produce 1,245 custom piles, which was the company's largest concrete pile project to date.

T.E. Walrath Trucking, also a Tacoma-based company, provided rip rap rock to stabilize the shore under the pier.

To secure future job opportunities, we also granted a 20-year lease extension to the Husky Terminal and Stevedoring to operate the terminal through 2046.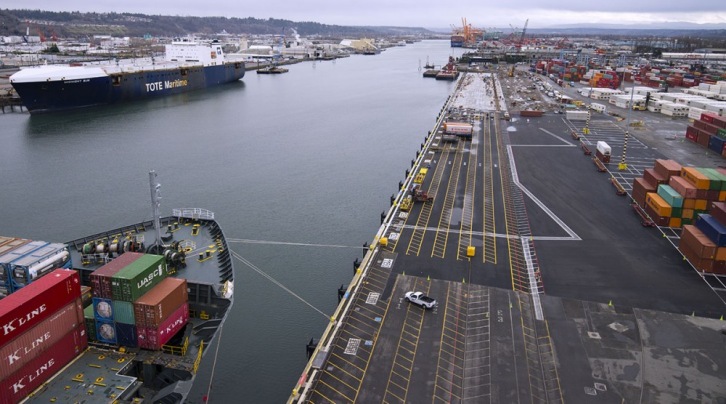 Image by The Northwest Seaport Alliance

Project history

January 2018
First four new cranes leave China bound for Tacoma. They are expected to arrive in early February.

November 2017
Pile driving is complete. Works continues on the wharf deck to reconfigure the berth.

June 2017
Managing Members authorize purchase of an additional four cranes for a total of eight.

February 2017
Pile driving and other in-water construction ends to allow for fish migration season. Crews continue to work on the berth's deck.

April 2016
The lease with Husky Terminal and Stevedoring Inc. is extended 20 years to 2046 and construction is approved for the Pier 4 Phase 2 Reconfiguration. Two additional container cranes are ordered.

January 2016
Two container cranes are ordered for the upgraded Pier 3. Delivery is expected in 2018.

February 2015 to February 2016
Compete the Pier 4 Phase 1 Removal Action. Work included demolishing most of Pier 4 and removing contaminated material discovered during required sediment sampling for the Pier 4 Reconfiguration.

August 2013 to December 2014
Complete the Pier 3 Upgrade to strengthen the wharf to support larger container cranes. The $20 million project included installing new pilings, constructing the pier, adding 100-gauge crane rail and building a new electrical substation.

August 2012
Commissioners authorize design and planning work for the second phase of terminal redevelopment to reconfigure Pier 4 to align with Pier 3 on the General Central Peninsula.

October 2011
Commissioners authorize planning and design work to upgrade Pier 3 to meet lease commitments to provide larger container cranes. It is the first phase terminal redevelopment on the General Central Peninsula.

June 2005
Husky Terminal begins operations at piers 3 and 4 on the General Central Peninsula. Existing container cranes include four 64-gauge cranes with an outreach of 16- to 18-containers wide.

The Northwest Seaport Alliance, press release