Hanjin Shipyard Delivers 2 units of 114K Crude Oil Tanker

22 November 2018

Subic Bay Freeport Zone: Subic-based Korean shipbuilder Hanjin Heavy Industries & Construction – Philippines (HHIC-Phil Inc.) has once again successfully delivered 2 units of 114K Tanker to its proud owner last November 13, 2018 and November 17, 2018.

Named M/V "IBERIAN SEA" and M/V "LEVANTINE SEA", these colossal vessels were ordered by Singapore-based Eastern Pacific Shipping (EPS) from HHIC-Phil Inc. The construction was successfully carried out under the technical supervision of classification society American Bureau Shipping (ABS) together with the high quality craftsmanship of Filipino workforce.

Its ship owners are also expecting two more tankers of the same kind to be delivered on the 1st quarter of 2019. And with the positive business momentum of HHIC Phil and Eastern Pacific shipping, the latter have ordered two more tanker vessels that is set to start its construction on the 2nd quarter of 2019.

Each of the tankers measures 240 meters in length, 44 meters in width and 21.35 meters in depth. Subic shipyard skilled workforce compliments the highest standard of expertise this type of sophisticated merchant ship requires in terms of pipefitting and painting works.

These two vessels are equipped with the cutting-edge SOX scrubber system to significantly reduce sulfur emission and a fixed ballast water treatment system(BWTS) has been installed in each vessel, in strict compliance with global environment protection standards prescribed by the International Maritime Organization (IMO)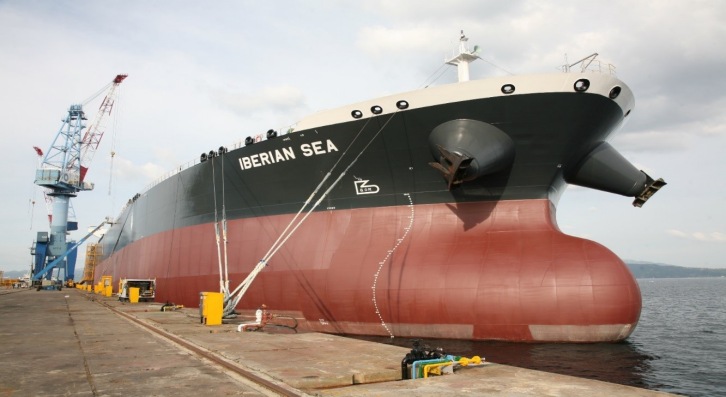 These Subic-made tanker vessels can transport either large quantities of unrefined crude oil from its point of extraction or transport refined products from refineries to points near consuming market. Image by HHIC-Phil Inc.
Since 2008, HHIC-Phil Inc. has already delivered a total of 123 vessels to valued clients across the globe, cementing its foothold in the highly competitive shipbuilding market. Image by HHIC-Phil Inc.
HHIC-Phil Inc. – Philippines, press release