COSCO Shipping Capricorn Named in Nantong

28 June 2018



On the morning of June 27, COSCO SHIPPING CAPRICORN, the sixth containership of COSCO SHIPPING constellation series, was officially named and delivered at Nantong COSCO KHI Ship Engineering Co., Ltd. (NACKS). It was another 20,000 TEU containership with proprietary IPRs ordered by COSCO SHIPPING Lines Co., Ltd. from NACKS in 2015.

Capt. Xu Lirong, Chairman and Party Secretary of COSCO SHIPPING, Mr. Huang Xiaowen, Executive Vice President of COSCO SHIPPING, Mr. Xu Huimin, Deputy Secretary of Nantong Municipal Party Committee and Acting Mayor of Nantong Municipal People's Government, Mr. Ye Hongjun, Chief Legal Officer of COSCO SHIPPING, Mr. Qian Weizhong, Party Secretary of COSCO SHIPPING Lines, and Mr. Liang Yanfeng President of COSCO SHIPPING Heavy Industry attended the ceremony. Guests and representatives from Lloyd's Register, China Classification Society and related logistics companies were also invited to the event. Ms. Zhou Hong, a member of the Foreign Affairs Committee of the National People's Congress (NPC) named the vessel and cut her cable as the godmother.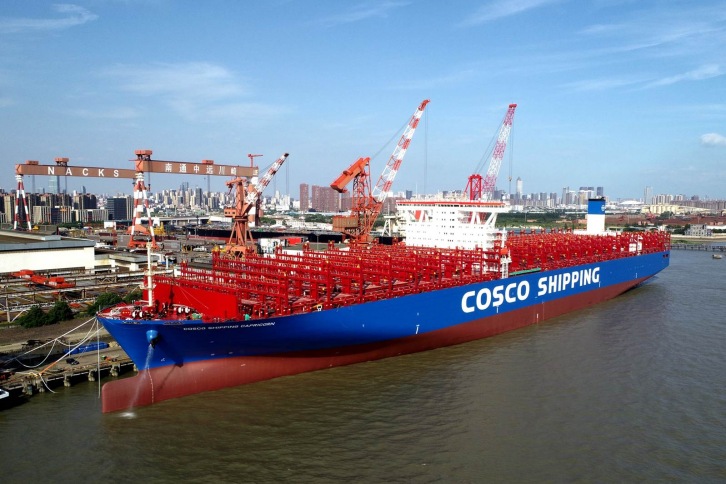 Image by China COSCO Shipping Corp. Ltd.

Image by China COSCO Shipping Corp. Ltd.

As a sister ship of the previously delivered COSCO SHIPPING ARIES and COSCO SHIPPING LEO, COSCO SHIPPING CAPRICORN was the third among the four 20,000 TEU containerships built by NACKS for COSCO SHIPPING Lines. Its construction period was shorter than the previous two ships, setting a new record of China's ULCS building period made by NACKS itself.

Being a model of next-generation ULCS and one of the longest vessels in the world, it has an overall length of 400 meters, molded beam and depth of 58.6 and 30.7 meters and maximum deadweight of 197,000 tons. The design of this vessel embraces the philosophy of environmental protection. It is fitted with an intelligent ship energy efficiency system and offers advantages in low fuel consumption, large capacity, high intelligence and strong port worthiness. Its carrying capacity, operating speed and safety performance are among the top worldwide while its energy consumption is far less than its peers, and energy efficiency index about 50% lower than the industry benchmark, meeting the international emission standard in a decade. An LNG device system is reserved on board for the future conversion of large-capacity LNG bunker serving in specific routes. The vessels' high efficiency, excellent performance and environmental protection design demonstrate the shipbuilder's craftsmanship while interpreting COSCO SHIPPING's concept of "green shipping, and smart shipping".

In mid-July, COSCO SHIPPING CAPRICORN will serve on the Mediterranean route in Europe (AEU3), a key shipping route of COSCO SHIPPING Lines, and become an important member of the constellation series popular in the market. AEU3 is not only an artery for trade and economic exchanges between Asia and Europe, but also an important route along the Belt and Road. The year 2018 will witness the comprehensive capacity upgrade of AEU3, as COSCO SHIPPING Lines plans to gradually improve the capacity all its 11 vessels serving the route from the current 13,000 TEU to 20,000 TEU before November.

China COSCO Shipping Corp. Ltd. press release